Wanda Hutira painted the gates of the "Ion Creanga" Branch of the Bucharest Metropolitan Library, as part of the multi-year programme of urban regeneration through art, Un-hidden Romania.
Un-hidden Romania is a multi-year cultural programme produced by Save or Cancel from July 2021 to June 2023. From guided tours with a street art theme to workshops with artists, open calls, or a series of artistic interventions, the program's activities aim to help the public explore public spaces in Romania through independent art.
The series of artistic interventions in public spaces includes outstanding works by Sandi (mural) and Oana (soundtrack) in Brasov, Pisica Pătrată in Constanta, Ortaku and Toybox in Bucharest, Maria Bălan (art installation) and Dragutesku (soundtrack) in Bucharest, Bea Hopes (mural) and Bucurie (soundtrack) in Iasi and continued with an intervention by Wanda Hutira in Bucharest.
Wanda's painted work highlights the role and importance of libraries, illustrating the quote "The world belongs to those who read" (Rick Holland). The quote was proposed by the readers of the "Ion Creanga" Branch of the Bucharest Metropolitan Library (10 Christian Tell Street), who were invited to get involved in the creation of this artwork.
The intervention continues the cultural itinerary of urban artistic works hosted by cultural institutions in Bucharest, partners in the multi-year Un-hidden Romania programme.
Un-hidden Romania: Greetings, Wanda, we are glad to have the opportunity to talk to you about your intense activity and recent collaboration with Un-hidden Romania, in which you created a mural painting at the "Ion Creanga" Branch of the Metropolitan Library. What are the ideas you want to convey to people who will discover your painting?
Wanda: Well, I was just wondering how to categorize this work – it's not a mural because it's not on the wall, I don't think there is a term for a door. What are we going to do? That's why I don't even like to describe works in terms of their medium very much. Street art, NFT art, digital art, gallery art – it seems there is too much emphasis on the medium and too little on the idea. I think it's more about working with a social message. A kind reminder that we can still read and don't need all the information translated into 30-minute videos.
UHR: You've had a busy year with lots of activities and travels, but we noticed that you didn't get to post all your work. Where can we see the latest murals you've done?
Wanda: Patience is a virtue.
It's not for mystery but a logistical error. Last year at a festival they stole my phone with all the videos and photos of my work. I had to make a timelapse and let a volunteer take care of it… big mistake. They both disappeared. I was very upset, I had a plan of posts done for about 60 days and photographed work all over the place. Now I'm trying to get footage/photos of everything and will start posting again. On the plus side, it broke me out of my habit of managing my work and opened the way to a kind of content.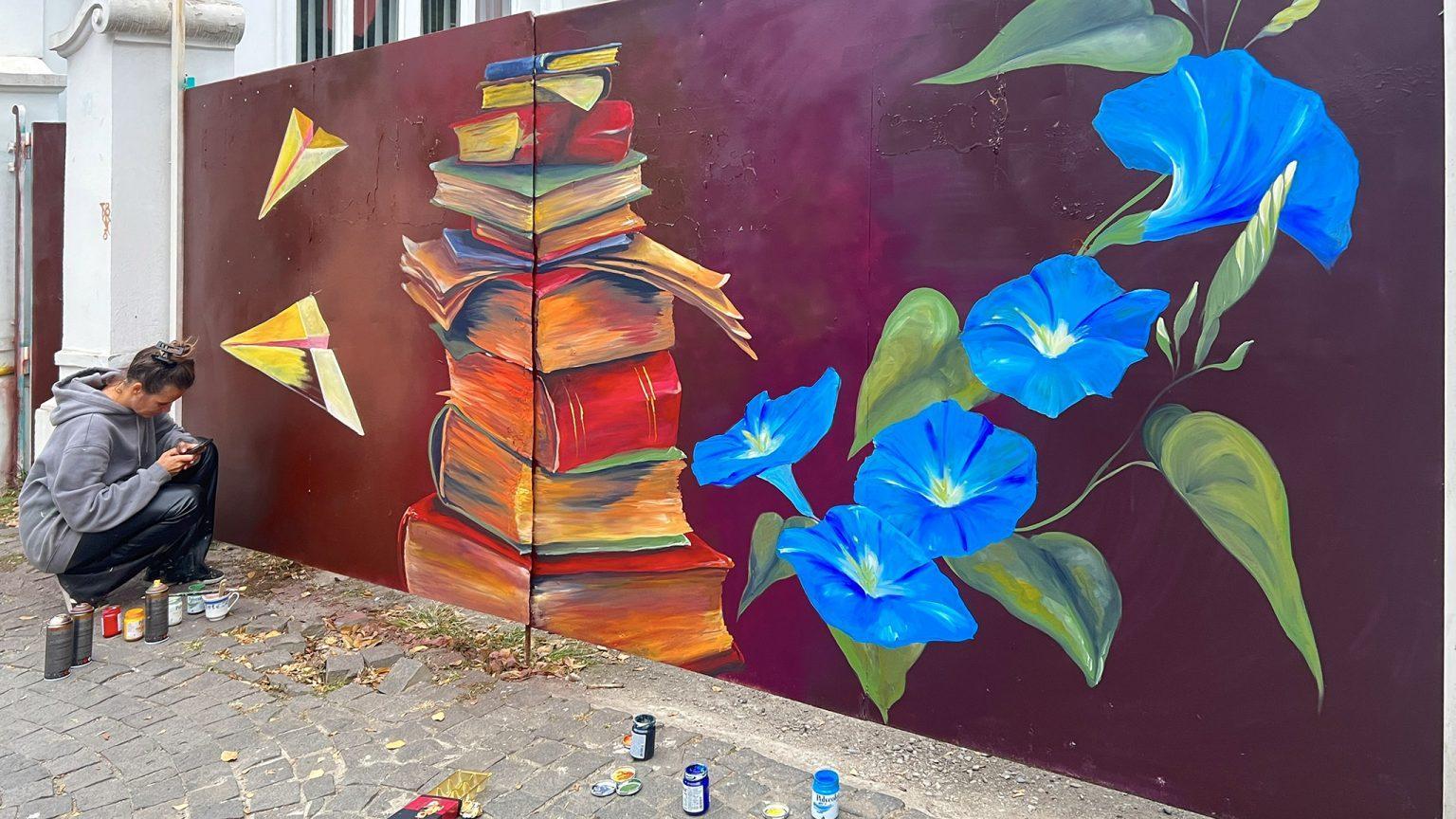 UHR: Through your works, you address themes such as the relationship between humans and nature, community, problems and values of contemporary society. What reactions are you looking for from residents, passers-by or urban explorers when they encounter your work?
Wanda: I'm doing what I think we should all do: pull the world a little bit into an area that we see as being better. I don't think that all my work together or street art in general can save the world. But maybe it changes one perception, two, or three? Who knows.
UHR: To accentuate the themes of the works, you incorporate messages in the form of text, often in readable fonts and quite large in relation to the composition. What are your reasons for using this type of representation, and what are the processes that a sketch goes through before you find that text and image are a perfect match?
Wanda: Habit, I guess. I like the combination of verbal/written messages and images. It creates a world that I see communicating more broadly. I really like graphic design and advertising and I think this space on the border between street art and graphic design is interesting.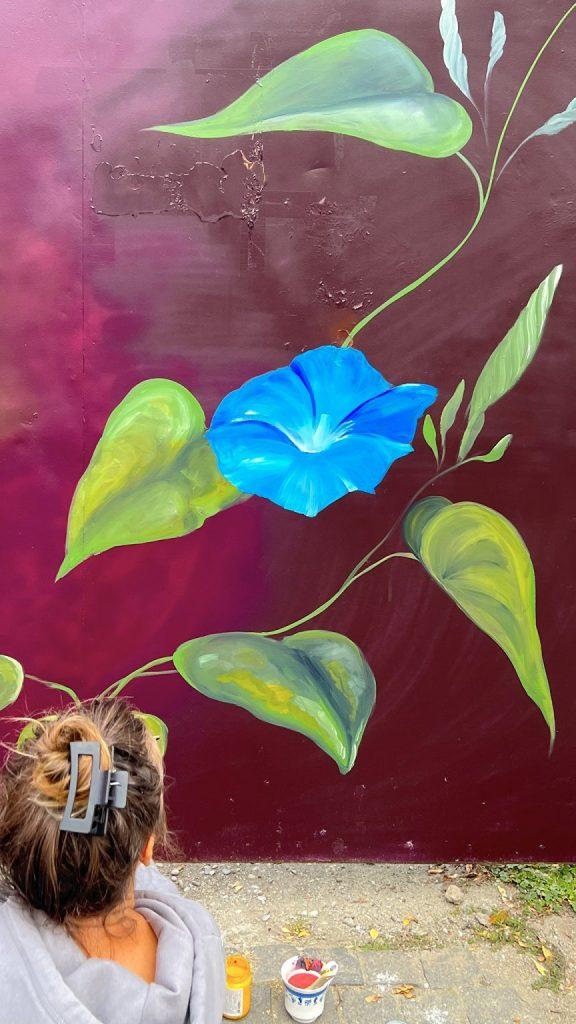 UHR: The street art scene is booming and enjoying a lot of success locally. What do you think is missing and what do you think could be improved?
Wanda: Hm… Good question!
As you say, it's booming so I think we should focus more on enriching it than improving it. Things will settle down over time and if we can create a diverse and spacious enough scene I think it will settle down in a way that's accessible to everyone. Soooo as much space as possible, many events 🙂 walls are for everyone.
Join the programme and experience music and visual art shaping public spaces.
Follow the Un-hidden Romania programme:
Map: http://bit.ly/Un-hiddenRomania
Facebook: https://www.facebook.com/unhidden
Instagram: https://www.instagram.com/unhiddenromania
YouTube: https://bit.ly/UHR-playlist
Pinterest: https://bit.ly/UHR-pinterest
feeder.ro: http://feeder.ro/un-hidden/
The cultural programme is produced by Save or Cancel (Cristina Popa, Andrei Racovițan) through feeder.ro and co-financed by AFCN.
The programme does not necessarily represent the position of The Administration of the National Cultural Fund. AFCN is not responsible for the content of the application or the way the program results can be used. These are entirely the responsibility of the beneficiary of the funding.
Partners: Bucharest Metropolitan Library, National Museum of Contemporary Art (Bucharest), Faculty of Sociology and Social Work (Bucharest), Lente (Bucharest), National Highschool of Arts Queen Mary (Constanța), Artipic Association (Iași)
Media Partners: Igloo, Zeppelin, The Institute, IQads, Revista Atelierul, La pas prin Brașov, Litera 9, Romania Pozitivă, Book Hub, Teen Press, Revista Golan, Modernism, Agenția de Carte, Propagarta
About Save or Cancel
Since 2009, Save or Cancel has been a medium for the communication and propagation of arts and culture, promoting and facilitating their role in contemporary society.
Save or Cancel's self-initiated multidisciplinary programs aim to identify sustainable and adaptable opportunities to (re)enhance the existing through architectural, cultural and publishing projects.