Wanda Hutira painted the gates of the "Ion Creanga" Branch of the Bucharest Metropolitan Library, as part of the multi-year programme of urban regeneration through art, Un-hidden Romania.
Un-hidden Romania is a multi-year cultural programme produced by Save or Cancel from July 2021 to June 2023. From guided tours with a street art theme to workshops with artists, open calls, or a series of artistic interventions, the program's activities aim to help the public explore public spaces in Romania through independent art.
The series of artistic interventions in public spaces includes outstanding works by Sandi (mural) and Oana (soundtrack) in Brasov, Pisica Pătrată in Constanta, Ortaku and Toybox in Bucharest, Maria Bălan (art installation) and Dragutesku (soundtrack) in Bucharest, Bea Hopes (mural) and Bucurie (soundtrack) in Iasi and continued with an intervention by Wanda Hutira in Bucharest.
Wanda's painted work highlights the role and importance of libraries, illustrating the quote "The world belongs to those who read" (Rick Holland). The quote was proposed by the readers of the "Ion Creanga" Branch of the Bucharest Metropolitan Library (10 Christian Tell Street), who were invited to get involved in the creation of this artwork.
The intervention continues the cultural itinerary of urban artistic works hosted by cultural institutions in Bucharest, partners in the multi-year Un-hidden Romania programme.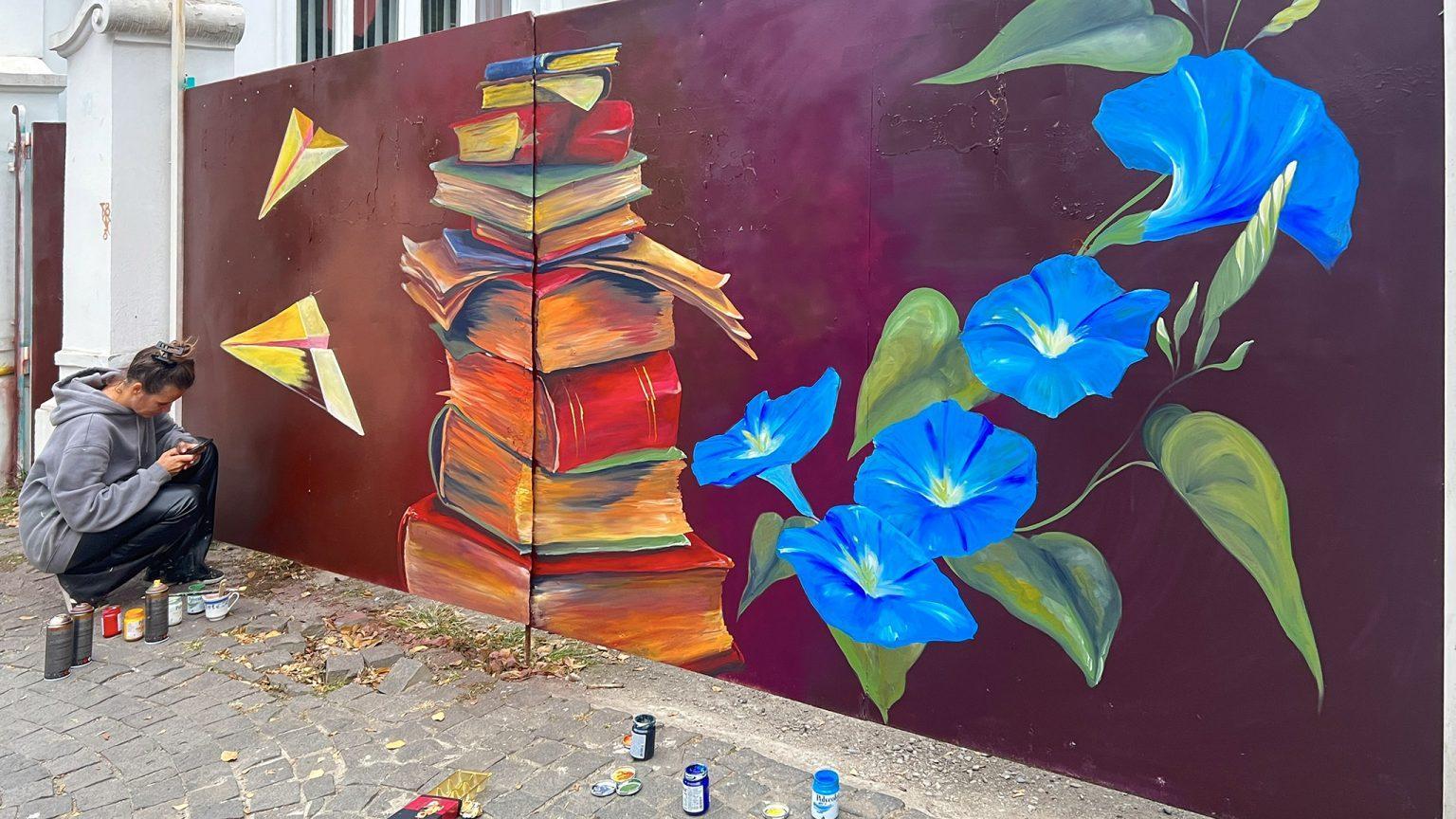 Join the programme and experience music and visual art shaping public spaces.
Follow the Un-hidden Romania programme:
Facebook: https://www.facebook.com/unhidden
Instagram: https://www.instagram.com/unhiddenromania
YouTube: https://bit.ly/UHR-playlist
Pinterest: https://bit.ly/UHR-pinterest
feeder.ro: http://feeder.ro/un-hidden/
Programme produced by Save or Cancel.
Distributed by feeder.ro
Partners: Bucharest Metropolitan Library, National Museum of Contemporary Art (Bucharest), Faculty of Sociology and Social Work (Bucharest), Lente (Bucharest), National Highschool of Arts Queen Mary (Constanța), Artipic Association (Iași)
Media Partners: Igloo, Zeppelin, The Institute, IQads, Revista Atelierul, La pas prin Brașov, Litera 9, Romania Pozitivă, Book Hub, Teen Press, Revista Golan, Modernism, Agenția de Carte, Propagarta
Co-financed by AFCN
The programme does not necessarily represent the position of The Administration of the National Cultural Fund. AFCN is not responsible for the content of the application or the way the program results can be used. These are entirely the responsibility of the beneficiary of the funding.
About Save or Cancel
Since 2009, Save or Cancel has been a medium for the communication and propagation of arts and culture, promoting and facilitating their role in contemporary society.
Save or Cancel's self-initiated multidisciplinary programs aim to identify sustainable and adaptable opportunities to (re)enhance the existing through architectural, cultural and publishing projects.