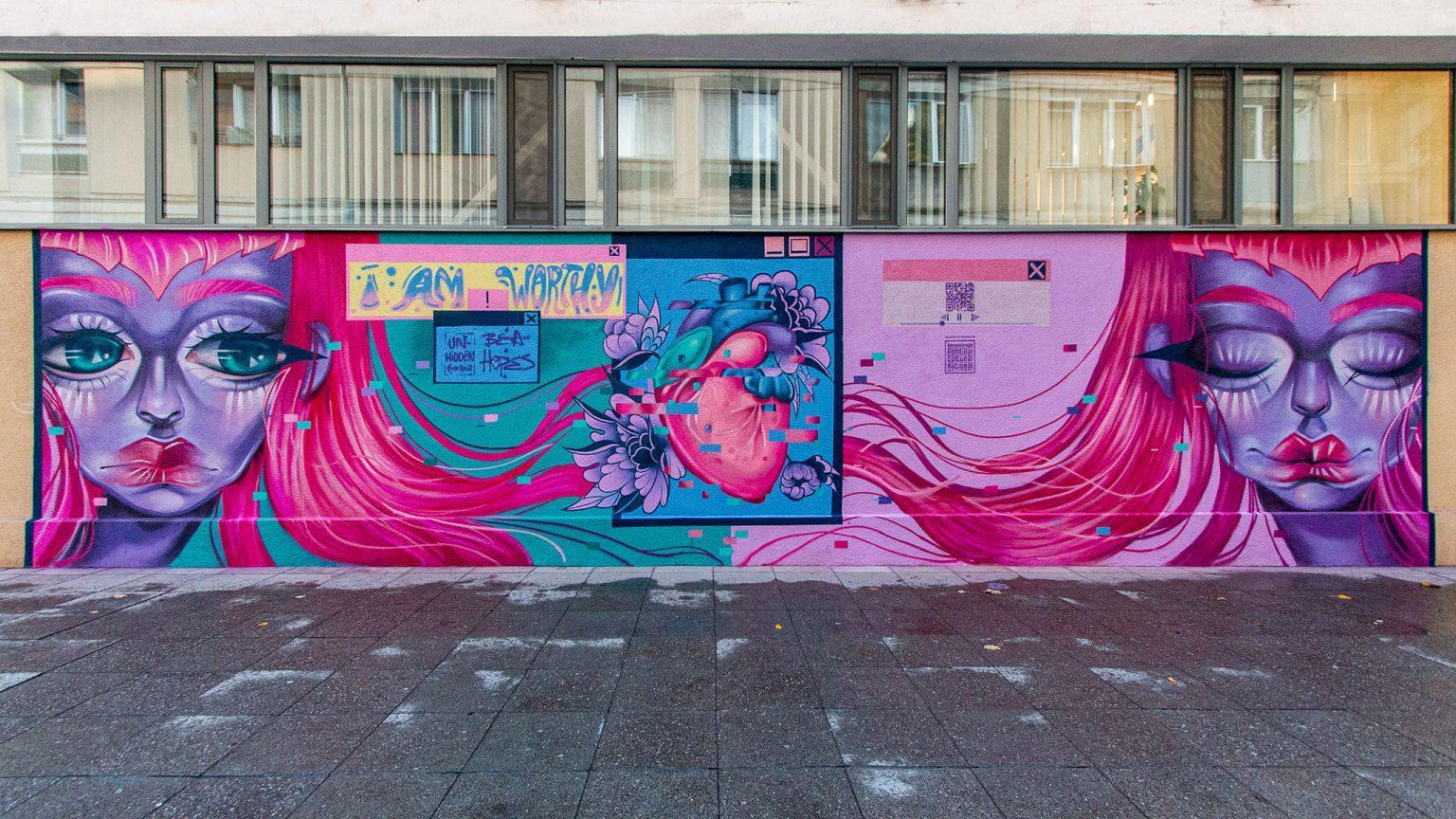 Following the two artistic interventions realized by Pisica Pătrată in Constanta and SANDi & OANA in Brasov, the Un-hidden Romania programme is expanding to Iasi. With the support of Artipic Association, the urban regeneration through art programme inaugurates a new multidisciplinary work created for public space, co-produced by Bea Hopes (mural painting) and Bucurie (audio composition).
The mural by Bea Hopes proposes an antithesis between the real and virtual environments, Through a series of graphic elements and colour combinations, passers-by are invited to discover a fragment of Mihaela Runceanu's song "E-adevarat, iubirea mea".
The artistic intervention is displayed in the centre of Iasi, on the façade of the Unirea Hotel. By scanning the QR code embedded in the artwork, urban explorers can listen to the audio composition created by artist Bucurie for this work.
BEA HOPES
Bea Hopes lives and works as a mixed media artist and illustrative tattoo artist, based in Iasi. The artist's work can be seen on the walls of Iasi, where she has created murals for the projects of Artipic Association, such as IndeZIDerabilii, RegenerARTe, and Urban Art Caravan, in collaboration with Frag.menta.
BUCURIE
Inspired by nature and its magical connections with people, Bucurie's musical productions are a representation of the artist's deepest and most personal thoughts and feelings.
Throughout time, he delivered numerous independent materials on Bandcamp while collaborating with established record labels like Otaku, Stamp Records, feeder sound, Hubble Recordings, Sanguina, Honne Music, Depth Over Distance, Zebra Records and Abduction.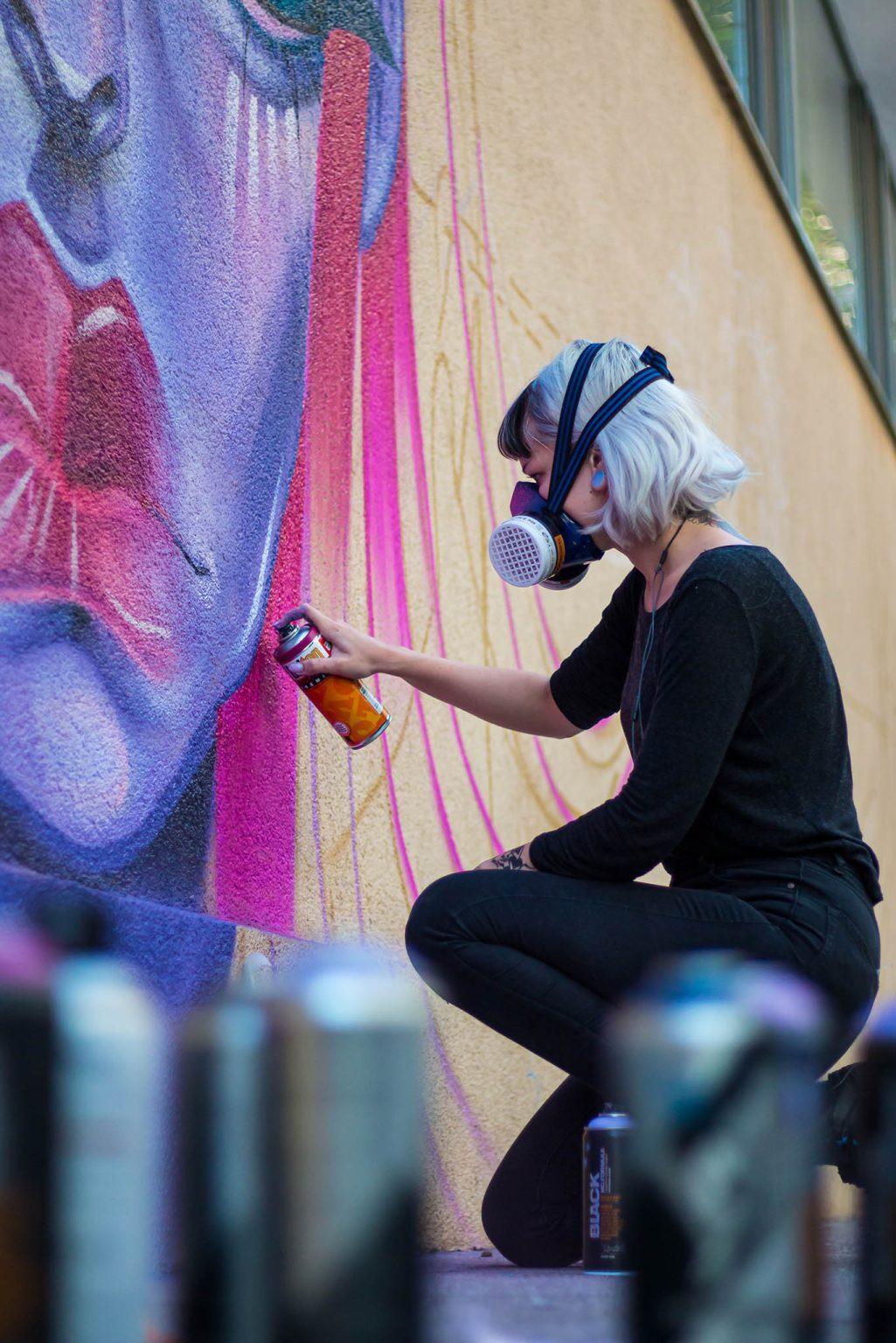 Photography by Ciprian Minea, Un-hidden Romania
Join the programme and experience music and visual art shaping public spaces.
Follow the Un-hidden Romania programme:
Facebook: https://www.facebook.com/unhidden
Instagram: https://www.instagram.com/unhiddenromania
YouTube: https://bit.ly/UHR-playlist
Pinterest: https://bit.ly/UHR-pinterest
feeder.ro: http://feeder.ro/un-hidden/
Programme produced by Save or Cancel.
Distributed by feeder.ro
Partners: Bucharest Metropolitan Library, National Museum of Contemporary Art (Bucharest), Faculty of Sociology and Social Work (Bucharest), Lente (Bucharest), National Highschool of Arts Queen Mary (Constanța), Artipic Association (Iași)
Media Partners: Igloo, Zeppelin, The Institute, IQads, Revista Atelierul, La pas prin Brașov, Litera 9, Romania Pozitivă, Book Hub, Teen Press, Revista Golan, Modernism, Agenția de Carte, Propagarta
Co-financed by AFCN
The programme does not necessarily represent the position of The Administration of the National Cultural Fund. AFCN is not responsible for the content of the application or the way the program results can be used. These are entirely the responsibility of the beneficiary of the funding.
About Save or Cancel
Since 2009, Save or Cancel has been a medium for the communication and propagation of arts and culture, promoting and facilitating their role in contemporary society.
Save or Cancel's self-initiated multidisciplinary programs aim to identify sustainable and adaptable opportunities to (re)enhance the existing through architectural, cultural and publishing projects.