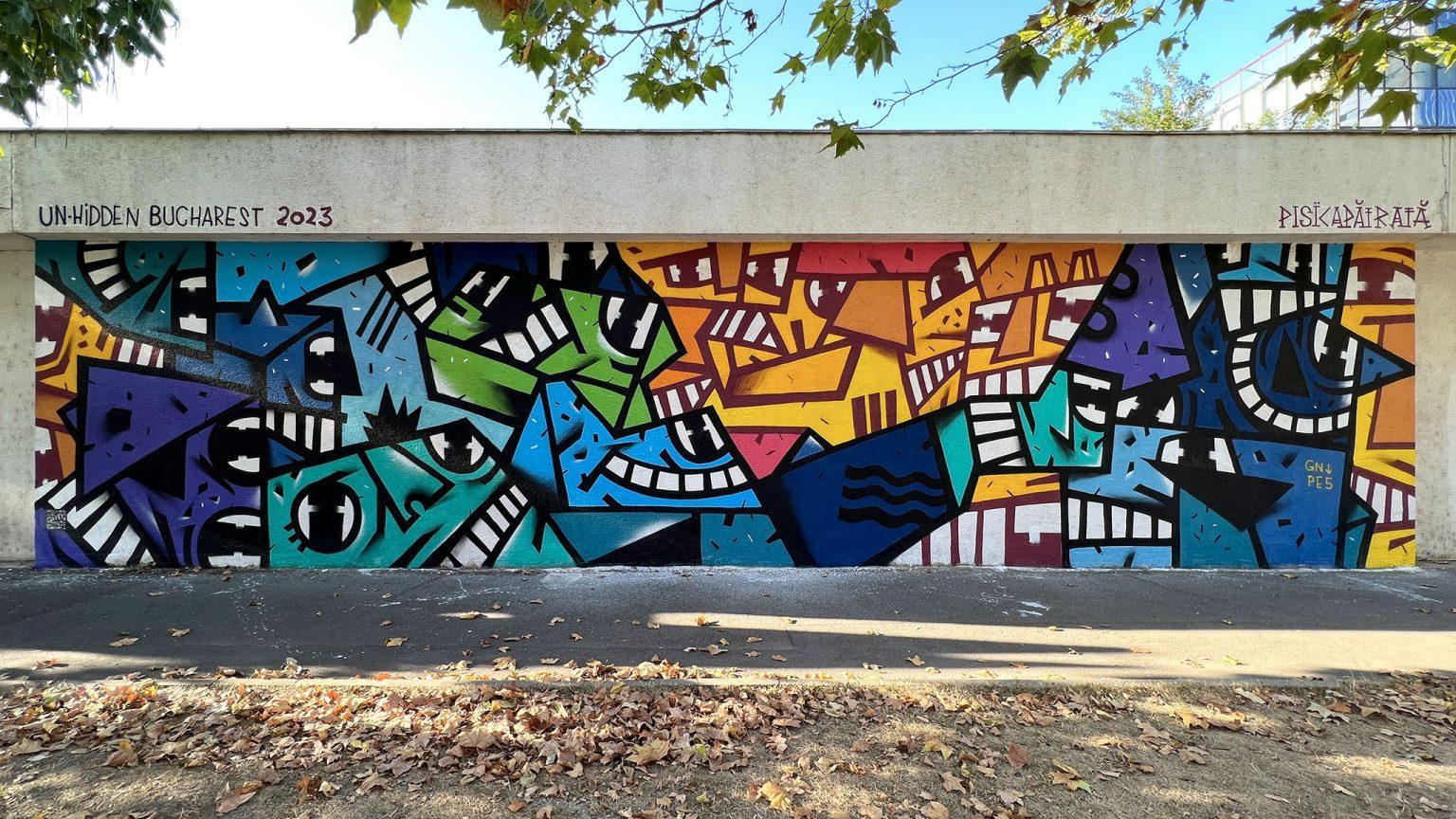 Starting on August 27th you're invited to Romexpo (Expozitiei Boulevard) to experiment with the multidisciplinary intervention that aims to explore the connection between electronic music and street art. Co-produced by Vlad Caia and Pisica Pătrată, this intervention brings together the art of mural painting and the inspiring efforts of making music influenced by and based on Bucharest's contemporary urban culture.
We are more than happy to present the multidisciplinary artistic intervention consisting of the carefully crafted soundscape by Vlad Caia and the mural painting by Pisica Pătrată during the Un-hidden Bucharest project, made by Save or Cancel and co-financed by Primăria Municipiului București through ARCUB for București Acasă 2023 program.
Pisica Pătrată
"The mural titled Overview is a visual reinterpretation of observations of urban relations. Geometric representations of urban people as rigid architectures devoid of natural fluidity. The overlapping differences and similarities result in a unified whole so familiar to urban spaces."

– Pisica Pătrată
Pisica Pătrată is one of the most appreciated illustrators and muralists in Romania, as well as the founder of the Comic Strip Museum. His work is prolific, with many public appearances, illustrating books, comics, magazines, participating in group and solo exhibitions, festivals and has created a long series of murals. The artist's characters redefine forgotten urban spaces, galleries and museums.
In recent years, the artist's collaborations with the Save or Cancel team have materialised in numerous exciting projects: one of the most beloved (and Instagrammable) artistic interventions in Bucharest – the work on the door of the Capitol Summer Theatre (2008, 2016, 2017); Together with Lente, the mural created as part of the series Pictăm Pereți (2016) and the wooden totem Un-hidden Bucharest (2017); Six painted panels installed on the façade of the Cina building (2018); A mural at the Regina Maria National College of Arts, Constanta (2019); Pisica Pătrată and Primărie co-produced a memorable live stream, broadcast by the online magazine feeder.ro (2020). Two panels he painted at the Mihai Eminescu Branch of the Bucharest Metropolitan Library as part of the Street Art Bucharest project (2021).
Save or Cancel exhibited some of his stunning paintings in group exhibitions at Kube, Lente, Palatul Universul, Romanian Design Week and Imbold Gallery.
In the publications Un-hidden street art in Romania (2019), Street Art București (2021), Viața zidurilor în spațiul public – The life of walls in public space (2022), Artă în lucru – Art at work (2022), Un-hidden Romania (2023) as well as on the Un-hidden map, you can find some of the works and art installations with which the Pisica Pătrată reconfigures forgotten urban spaces, galleries or museums.
Pisica Pătrată on facebook | instagram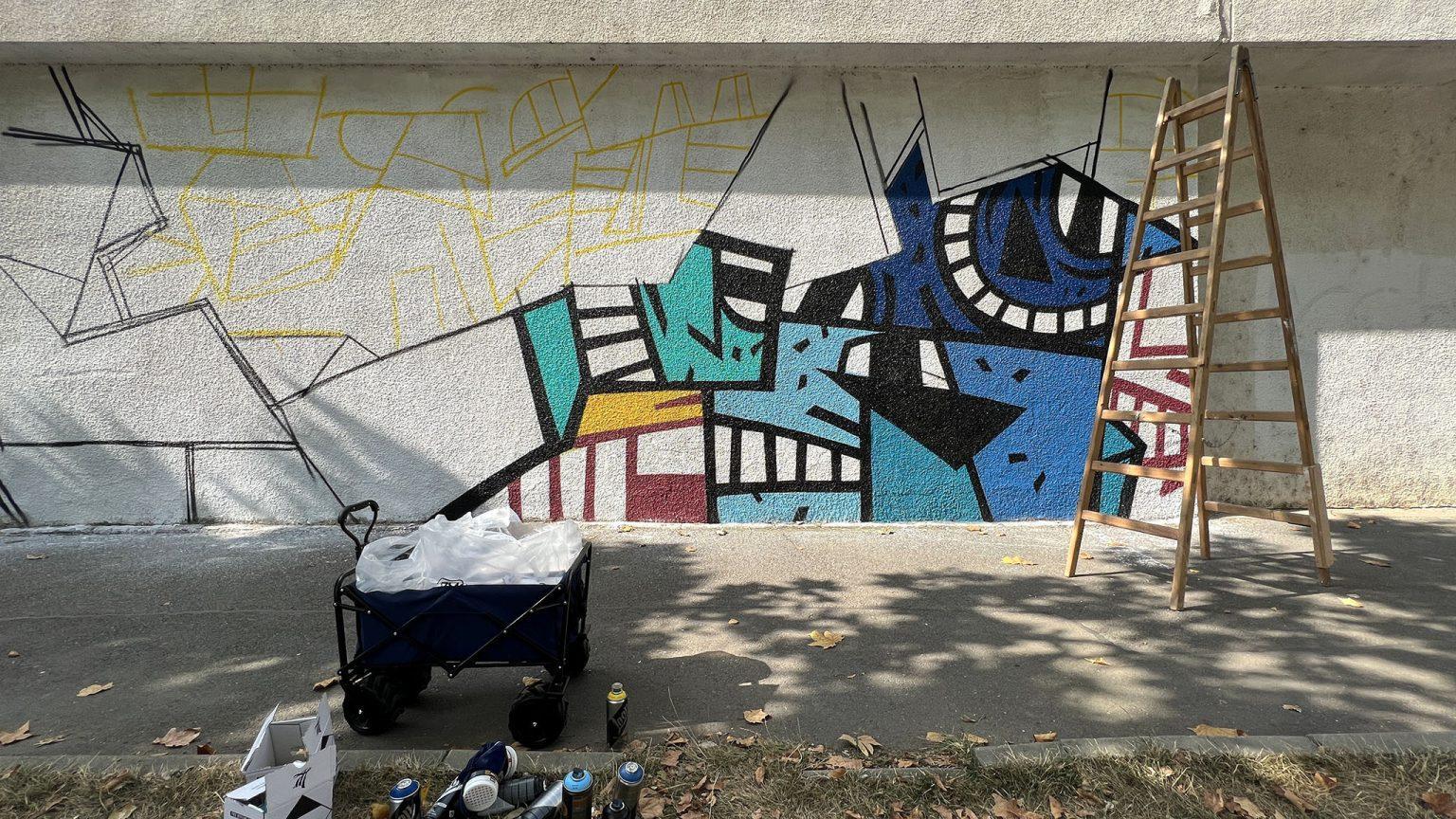 Vlad Caia
"Commissioned by feeder.ro, I wandered the streets of Bucharest to capture its signature sounds. Traffic-jam, footsteps, voices, the hum of little storefronts and everything in between, these binaural recordings would later become an experimental piece called "Walk slow, listen more". Much like the breathing of a strange urban beast, the piece is littered with sonic bits and rhythmic patterns. I highly recommend listening to it on your headphones alongside Pisica Pătrată's visual sketch for the Un-hidden Bucharest cultural project."

– Vlad Caia
Vlad Caia lives and works in Bucharest. He is part of the SIT project and Amphia Records alongside Cristi Cons and part of the Amorf trio with Mischa Blanos. With many skills and a vast experience in DJ-ing and sound design accumulated over many years spent in studios, clubs and festivals, he's an active artist with a prominent character in the underground electronic music scene.
Deeply exploring the realm of minimal techno, microhouse and experimental, throughout time he surely brought forward timeless contributions whether we talk about his own productions, collaborations, edits, remixes, solo acts, live acts or mastering services. Throughout time he also collaborated with record labels like Uvar, Meander, All Inn Black, Fabric London, Synkroniq, Rora and Next Dimension Music, among others.
Vlad Caia on soundcloud | facebook | instagram

The Un-hidden Bucharest project contains 5 urban art workshops, 5 guided tours, 1 multidisciplinary artistic intervention, 1 live stream performance and 1 exhibition. The project's cultural products investigate the role of art in everyday life and its ability to create feelings of cultural belonging while stimulating the imagination of viewers and contributing to urban regeneration. Find out more here.
Un-hidden Bucharest is a cultural project created by Save or Cancel and distributed by feeder.ro.
The content of this material does not necessarily represent the official position of Bucharest City Hall or ARCUB. For detailed information about the funding programme of the Municipality of Bucharest through ARCUB, please visit www.arcub.ro. For information about Bucharest City Hall, please visit www.pmb.ro.
Partners: Biblioteca Metropolitană București, Romexpo, Lente
Media partners: BookHub, Igloo, Iqads, La pas prin Brașov, Modernism, Propagarta, Revista Atelierul, Revista Golan, The Institute, Zeppelin
Photos by George-Andrei Ilie
Follow the Un-hidden Bucharest project:
Website: https://un-hidden.ro/en
Facebook: https://www.facebook.com/unhidden
Instagram: https://www.instagram.com/unhiddenromania
About Save or Cancel
Since 2009, Save or Cancel has been a medium for the communication and propagation of arts and culture, promoting and facilitating their role in contemporary society. Save or Cancel's self-initiated multidisciplinary programs aim to identify sustainable and adaptable opportunities to (re)enhance the existing through cultural and editorial projects.