The Un-hidden Romania multiannual programme announces the upcoming art interventions, created by the artists Mr. Thoms (Italy), Andrei Felea and Alexa Lincu, in partnership with Romexpo, Muzeul Național de Artă Contemporană (MNAC) and Special Secondary School No. 9 (Școala Gimnazială Specială Nr. 9).
The artworks, scheduled for March and April, are the proposals that have won the Open call help in December 2022, evaluated by representatives of the partner ROMEXPO, representatives of the partner MNAC, namely Călin Dan (MNAC General Director), Sandra Demetrescu (MNAC Programmes Director), Alexandru Oberländer-Târnoveanu (MNAC Museographer / Curator), Mădălina Tichie (MNAC Museographer / Cultural Mediation); representatives of the partner Special Secondary School No. 9, namely Cana Cristina (Director of Special Secondary School No. 9) și Alina Hirit, alongside the artists MSER, Pisica Pătrată and representatives of Save or Cancel.
About the works and artists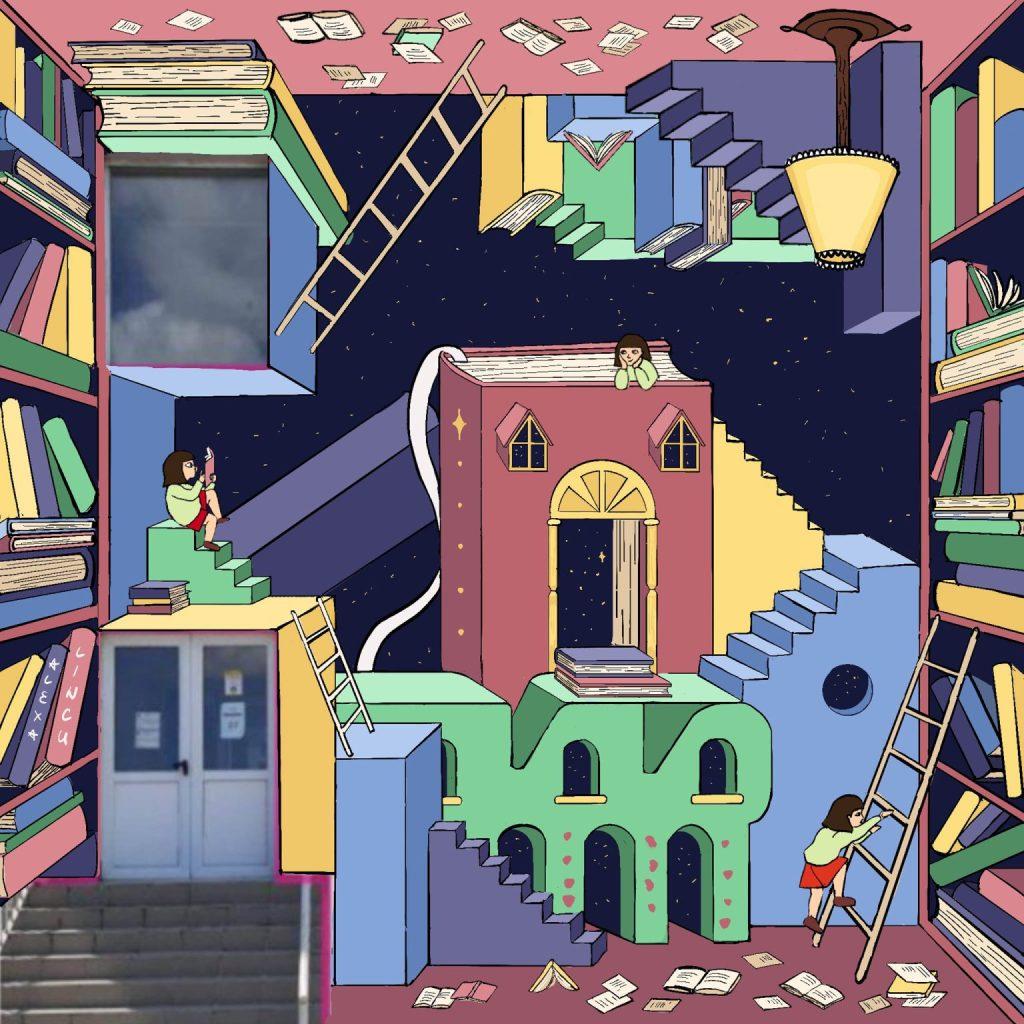 MULTIDISCIPLINARY ART INTERVENTION
Artists: Alexa Lincu, open call winner (mural art) + Xandru (electronic music composition)
Special Secondary School No. 9, Bucharest
19 – 27 March
Description
But could youth last and life still breed? Through books, there's no way it wouldn't. As a life-changing experience, an invitation to discover the world, to discover yourself, a bequest. An encyclopedia of the state of being, of the soul. Shall it make us all grow?
Artist biography
I'm Alexa. I've been drawing for as long as I can remember, although it never occurred to me until my senior year of high school that I'd choose to make a career out of it. After graduating from the Mural Art department of the National University of Arts in Bucharest, I'm curious to experiment with both traditional and digital mediums, looking forward to reflecting upon a better understanding of the artistic practice in the matter of contemporary art. My works reflect my journey of profound introspection, using as a source of inspiration feelings that are rooted in current events or childhood memories, developing the visual context of a new world of possibilities.
ART INTERVENTION
Artist: Andrei Felea
MNAC Annex (National Museum of Contemporary Art), Bucharest
7 – 9 April
Description
Focal Point
The work "Focal Point" is based on highlighting the importance of street art in relation to the urban environment. Given the high desire for curiosity that a city like Bucharest can generate, people's duty in the 21st century is to give back to the city. With respect to all categories of art, we have the opportunity to enjoy all that is on offer. Although we are in the midst of a city painted in shades of grey, yet the imprint of artists remains almost impossible to erase or forget.
Artist biography
Hi, I'm Andrei Felea, I'm 27 years old, I'm a visual artist and I graduate of the National University of Arts in Bucharest. I have my own imaginative universe and my works make you think, their message having different interpretations, depending on who is watching. I am always in search of knowledge and something new. I appreciate historical, social and cultural approaches. I always want to stop the moment and capture it.
ART INTERVENTION
Artist: Mister Thoms [IT]
Romexpo Workshops building, Bucharest
9 – 16 April
Description
NEXT STOP: FUTURE
It's a race, people are in a race.
At the head of the competition is a robot that represents "technology"
Each in his own way through his own profession (Science, Art, Teaching) tries to keep up with the Robot that represents the ever-faster "technological evolution" in our age.
Artist biography
Born in Rome, born in 1979, Mister Thoms began to paint Graffiti in 1996 and is currently one of the best-known Italian street artists.
His very name evokes an onomatopoeic sound that suggests the elasticity of his art: Mister Thoms. Diego della Posta is actually a multifaceted artist who expresses himself not only through Street Art, but also through painting, illustration and graphic design, in a constant search for balance between the ironic mood and the expressive concept.
Mister Thoms plays with bright colours and geometric shapes to create movement. The walls where he works have a direct influence on his subject. His great understanding of architecture and body language allows him to capture the essence of his characters.
This is what defines Mister Thoms skills, his ability to represent movement on the walls, but at the same time express a concept, sending a message on which to reflect in an ironic way.
Active in the street art scene, he participates in urban art events and festivals all over the world, Italy, England, New York Denmark, Hong Kong, Germany, Russia, California, Mexico, Portugal and Spain, spreading his ironic and cutting style. His talent is to transform ordinary places into extraordinary places.
Join the programme and experience music and visual art shaping public spaces.
Follow the Un-hidden Romania programme:
Map: http://bit.ly/Un-hiddenRomania
Facebook: https://www.facebook.com/unhidden
Instagram: https://www.instagram.com/unhiddenromania
YouTube: https://bit.ly/UHR-playlist
Pinterest: https://bit.ly/UHR-pinterest
feeder.ro: http://feeder.ro/un-hidden/
The cultural programme is produced by Save or Cancel (Cristina Popa, Andrei Racovițan) through feeder.ro and co-financed by AFCN.
The programme does not necessarily represent the position of The Administration of the National Cultural Fund. AFCN is not responsible for the content of the application or the way the program results can be used. These are entirely the responsibility of the beneficiary of the funding.
Partners: Bucharest Metropolitan Library, National Museum of Contemporary Art (Bucharest), Romexpo, Special Secondary School no. 9, Bucharest Metropolitan Library, Faculty of Sociology and Social Work (Bucharest), Lente (Bucharest), National Highschool of Arts Queen Mary (Constanța), Artipic Association (Iași), Lagom Hotel (Bucharest)
Media Partners: Igloo, Zeppelin, The Institute, IQads, Revista Atelierul, La pas prin Brașov, Litera 9, Romania Pozitivă, Book Hub, Teen Press, Revista Golan, Modernism, Agenția de Carte, Propagarta
About Save or Cancel
Since 2009, Save or Cancel has been a medium for the communication and propagation of arts and culture, promoting and facilitating their role in contemporary society.
Save or Cancel's self-initiated multidisciplinary programs aim to identify sustainable and adaptable opportunities to (re)enhance the existing through architectural, cultural and publishing projects.