Following the artistic interventions by Pisica Pătrată in Constanta, SANDi (mural painting) in collaboration with OANA (audio composition) in Brasov, Ortaku & Toybox and Wanda in Bucharest, as well as Bea Hopes (mural painting) in collaboration with Bucurie (audio composition) in Iasi, Alexa Lincu (mural painting) & Xandru (audio composition) at Școala Gimnazială Specială Nr. 9, Bucharest, and Andrei Felea at MNAC, Bucharest, the Un-hidden Romania project expanded with a new artistic intervention by Italian artist Mister Thoms, with the support of partners Romexpo.
The mural painting by Mister Thoms was selected in the open call organized in December 2022, juried by the representatives of the partner Romexpo, together with the artists MSER, Pisica Pătrată and Save or Cancel representatives.
Un-hidden Romania interview with Mister Thoms
Hello Mister Thoms. It was a delightful experience to meet you in Bucharest, where you painted two new murals at Romexpo & Lente, during the Un-hidden Romania street art programme. On this occasion, we spent a few days on the streets of Bucharest, exchanging ideas about art, street art, graffiti, music and many other topics. Read the extended interview with Mr Thoms to discover the follow-up story.
Un-hidden Romania: One of the most recurring subjects regarded the messages embedded by artists in their artworks, or their absence that can transform any work into decoration. Your mural painted at Romexpo, titled "Next stop: future", depicts a few puppets who wear different uniforms running after a robot. What ideas and emotions would you like the viewer to experience while looking at this painting?
Mister Thoms: The basic idea was to represent the current society made up of various working and non-working figures, imagined as if they were in a race running after a robot, to symbolize the race that everyone makes to keep up, with the rapid evolution of the digital world.
UHR: The second mural you painted, at Lente, is like your personal postcard from Bucharest to the viewer. You mixed pieces and elements that refer to certain moments you encountered while exploring Bucharest. Using only a few colours and characters combined with lettering, you managed to balance the composition and, at the same time, create a visual story. Can you describe some of the most interesting or funny moments you saw in the city and painted into the final work?
Mister Thoms: surely the time spent together with Andrei and Alex was the most fun 🙂 but I must say that I also enjoyed walking around the city, observing the various paradoxes and oddities, trying to make a synthesis in a symbolic and ironic key, I represented the ones that struck me the most, almost like a post-card. 🙂
UHR: From what we can see, you are a bit workaholic. While you finished both murals quickly, creating engaging characters and stories and achieving complex details with plenty of effects, you still had time to sketch and work on other projects. Why do you consider your work important? How do you keep your focus and interest in art while constantly creating and expanding your style?
Mister Thoms: Maybe because I don't consider my job "Work" but fun! 🙂 There is a beautiful phrase by Confucius which reads: "Choose the job you love and you will never work, not even for a day in your whole life. I can confirm that it is since art is my passion and my vocation 🙂
The constant lymph that nourishes me beyond the reality that surrounds me made up of human beings, nature and inexplicable phenomena is also and above all nourished by reading, I read a lot and I read everything, reading is an inexhaustible source for those who work with images like me, when I read it is as if I turn on the projector of my mind, visualizing images generated by the words themselves, it is here that I always find new fuel to keep my flame always well lit.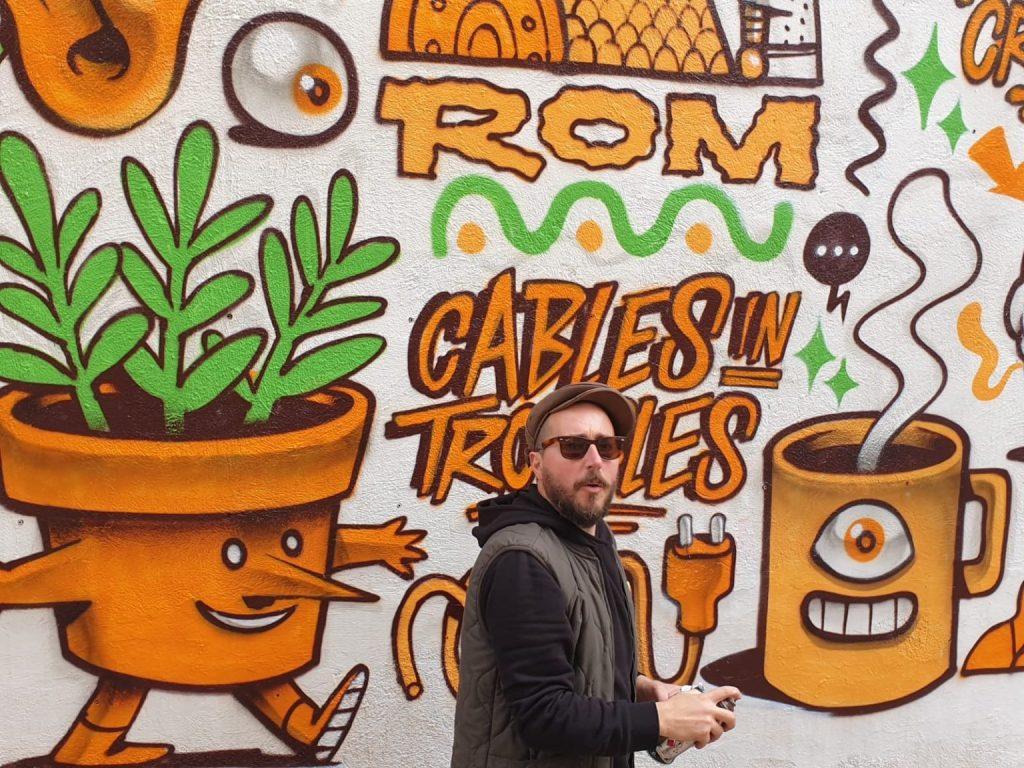 UHR: At some point, you mentioned working on a new exhibition. Can you tell us more about it?
Mister Thoms: In July I will have a new personal exhibition in a gallery in Italy, it will be a site-specific installation, the title of the exhibition will be "Never Green" focused a lot on the theme of pollution in an ironic key, but also conceptually with cleaning man and the work on himself that he must do to restore harmony with the world around him, the challenge was to connect these two aspects 🙂
UHR: You started your career as a graffiti writer over 20 years ago, when the graffiti movement was more underground and less known by the wider public. How did you connect with the Italian graffiti scene?
Mister Thoms: I started painting graffiti with my own school mates, many mornings instead of going to class we went looking for places where we could paint, we formed a first crew and slowly we began to make ourselves known to the graffiti scene that already existed in Rome
UHR: During the years, which particular artists influenced your perspective on art? We are curious about what artists you recommend for us to follow these days.
Mister Thoms: I always answer this question in the same way, the major painters who influenced my perspective were the whole Surrealist movement, I believe they have definitely left a mark in my unconscious, but I also think a lot from the world of illustration, cinema and cartoons, in short, everything that represented the pop culture of the 90s.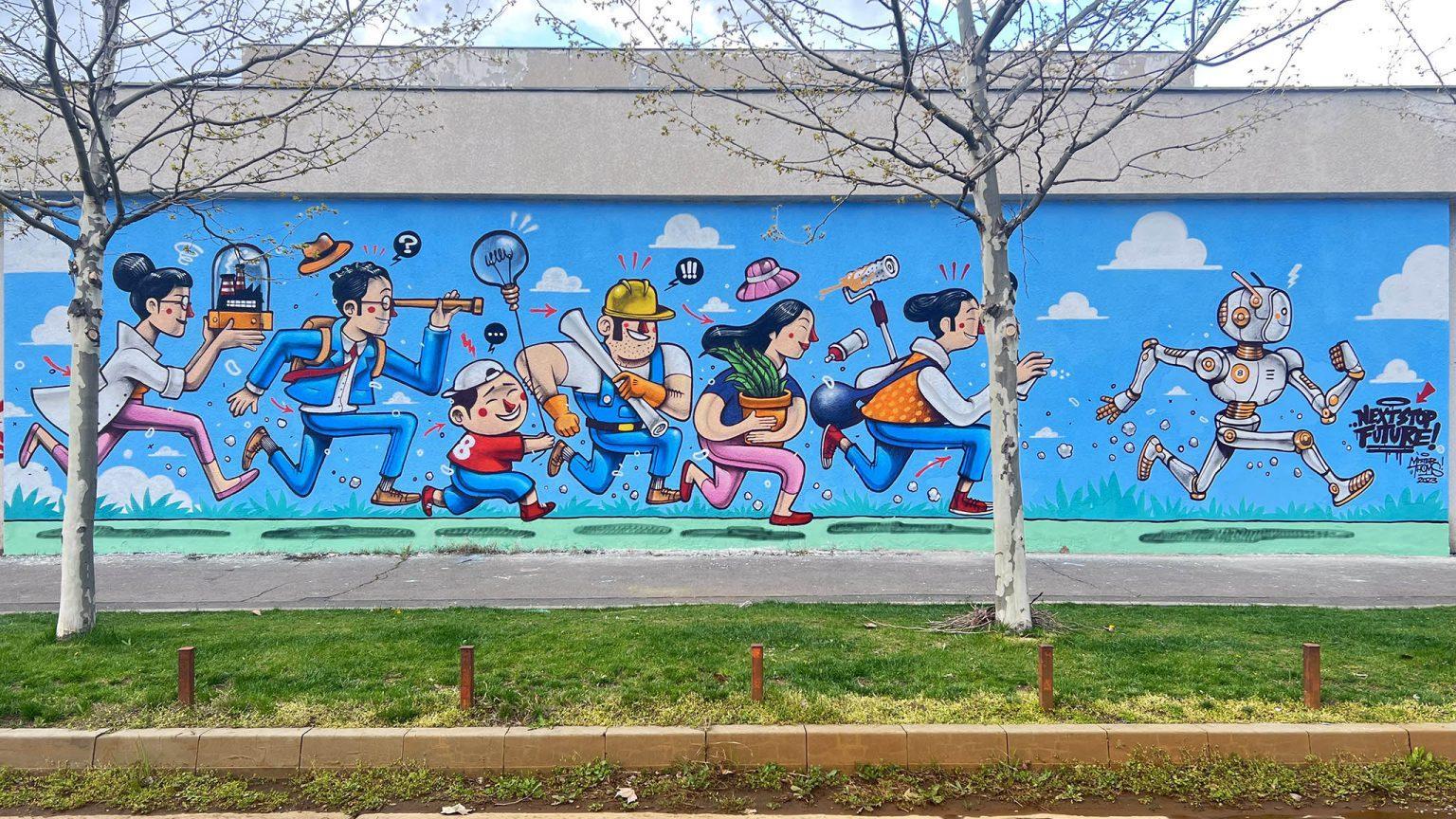 UHR: We learned that in the beginning, you used for your alias the onomatopoeic sound "Thoms". Over time you became "Mister Thoms". What are the main goals and plans for your artistic persona?
Mister Thoms: in three simple words: never stop knowing, learning, and evolving. 🙂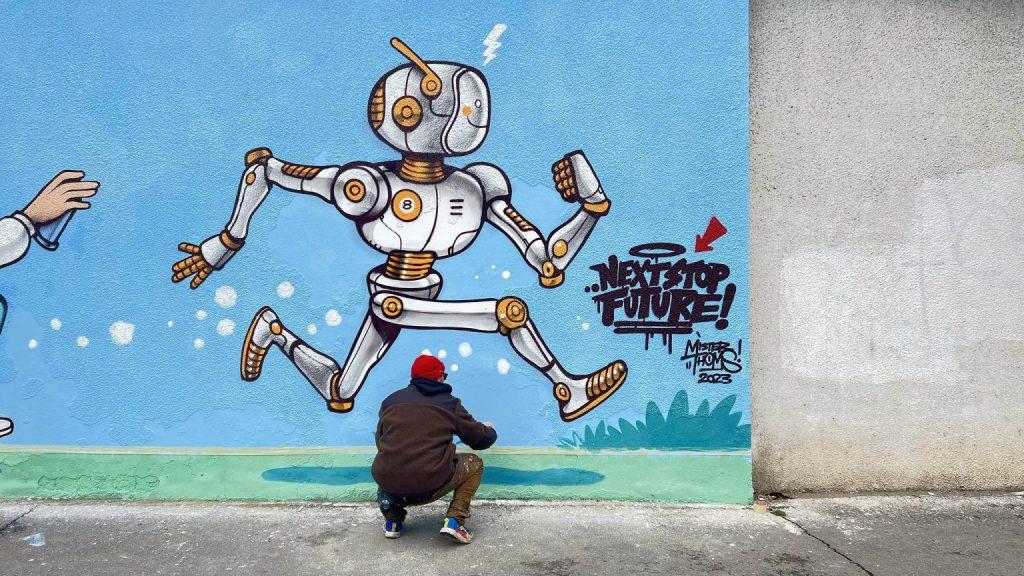 Mister Thoms on www.thoms.it / instagram / facebook
Join the programme and experience music and visual art shaping public spaces.
Follow the Un-hidden Romania programme:
Map: http://bit.ly/Un-hiddenRomania
Facebook: https://www.facebook.com/unhidden
Instagram: https://www.instagram.com/unhiddenromania
YouTube: https://bit.ly/UHR-playlist
Pinterest: https://bit.ly/UHR-pinterest
feeder.ro: http://feeder.ro/un-hidden/
The cultural programme is produced by Save or Cancel (Cristina Popa, Andrei Racovițan) through feeder.ro and co-financed by AFCN.
The programme does not necessarily represent the position of The Administration of the National Cultural Fund. AFCN is not responsible for the content of the application or the way the program results can be used. These are entirely the responsibility of the beneficiary of the funding.
Partners: Bucharest Metropolitan Library, National Museum of Contemporary Art (Bucharest), Romexpo, Special Secondary School no. 9, Bucharest Metropolitan Library, Faculty of Sociology and Social Work (Bucharest), Lente (Bucharest), National Highschool of Arts Queen Mary (Constanța), Artipic Association (Iași), Lagom Hotel (Bucharest)
Media Partners: Igloo, Zeppelin, The Institute, IQads, Revista Atelierul, La pas prin Brașov, Litera 9, Romania Pozitivă, Book Hub, Teen Press, Revista Golan, Modernism, Agenția de Carte, Propagarta
About Save or Cancel
Since 2009, Save or Cancel has been a medium for the communication and propagation of arts and culture, promoting and facilitating their role in contemporary society.
Save or Cancel's self-initiated multidisciplinary programs aim to identify sustainable and adaptable opportunities to (re)enhance the existing through architectural, cultural and publishing projects.