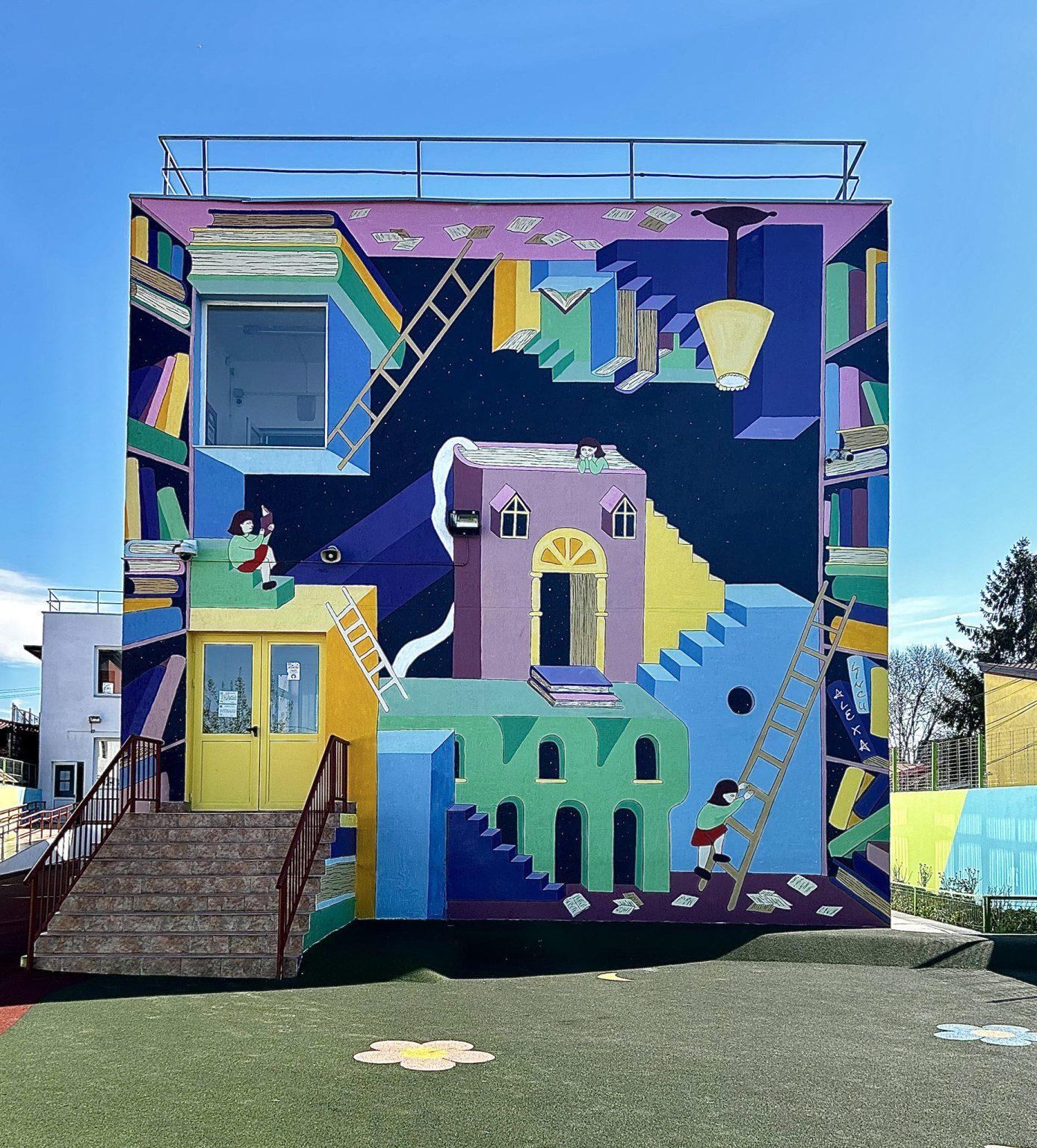 Following the artistic interventions by Pisica Pătrată in Constanta, SANDi (mural painting) in collaboration with OANA (audio composition) in Brasov, Ortaku & Toybox and Wanda in Bucharest, as well as Bea Hopes (mural painting) in collaboration with Bucurie (audio composition) in Iasi, the Un-hidden Romania project expands with a new multidisciplinary artistic intervention. With the support of partners Școala Gimnazială Specială Nr. 9, Bucharest, the urban regeneration through art programme inaugurates a new multidisciplinary work created for children, school staff and public space, co-produced by Alexa Lincu (mural painting) and Xandru (audio composition).
The mural painting by Alexa Lincu was selected in the open call organized in December 2022, juried by the representatives of the partner Special Secondary School No. 9, namely Cana Cristina (Director Special Secondary School No. 9) and Alina Hirit, together with the artists MSER, Cat Square and Save or Cancel representatives.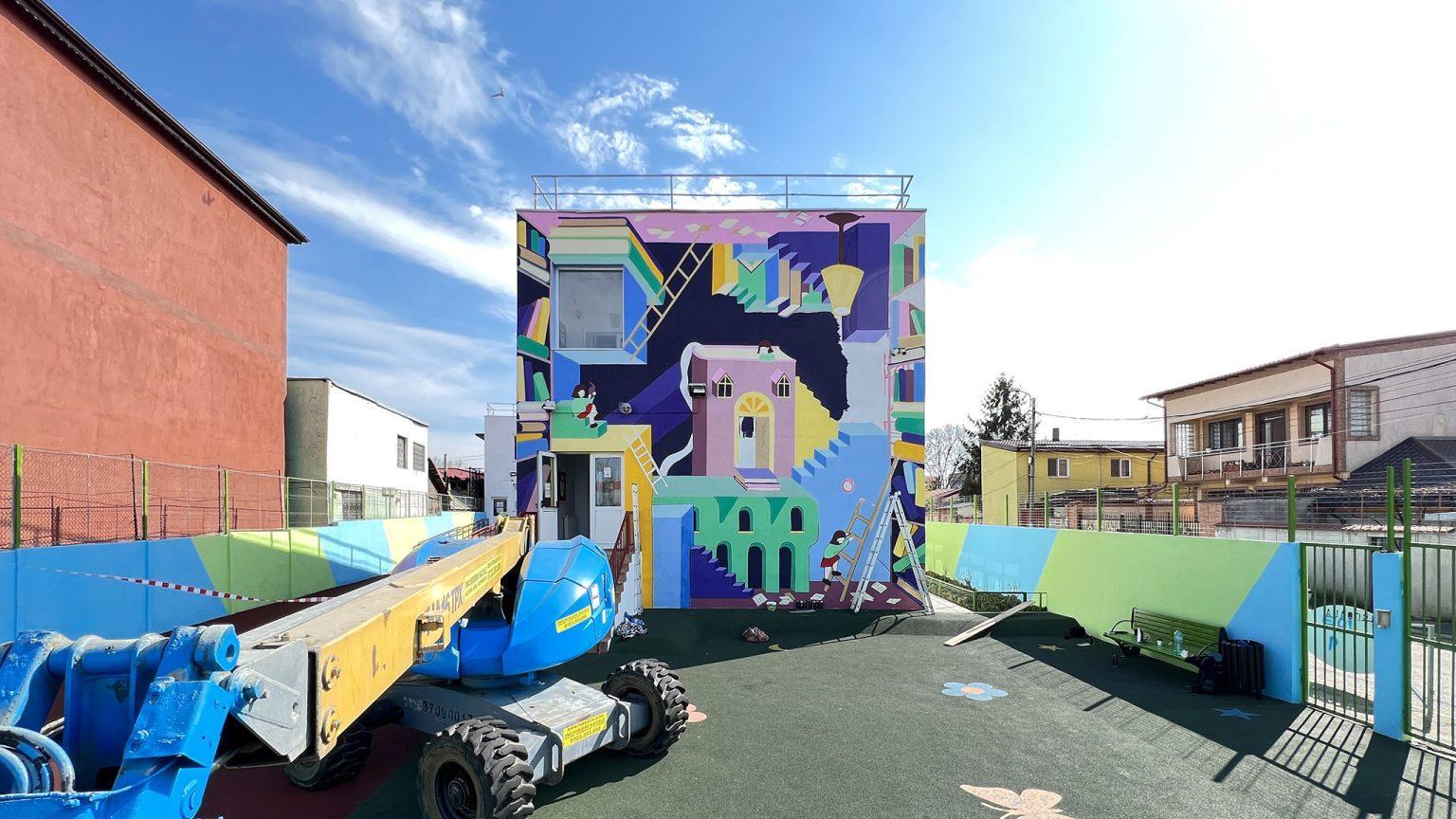 The school is located at 34 Trompetului Street and the artistic intervention is visible from Sulfina Street. By scanning the QR code embedded in the artwork, urban explorers can listen to the audio composition created for the artwork by artist Xandru.
"But could youth last and life multiply? Through books it cannot be otherwise. As a life-changing experience, as an invitation to discover the world, to discover yourself, as a gift. An encyclopaedia of the state of being, of the soul. May it make us all grow."

Alexa Lincu
Alexa Lincu
Alexa has been drawing for as long as she can remember, although it never occurred to her until her senior year of high school that she might choose to make a career out of it. A graduate of the Mural Art department at the National University of Arts in Bucharest, she is curious to experiment with both traditional and digital mediums, looking forward to being able to reflect on a better understanding of artistic practice in contemporary art. Her work reflects her journey of deep introspection, using feelings rooted in current events or childhood memories as inspiration, developing the visual context of a new world of possibilities.
Alexa Lincu on instagram
Xandru
From underground hip-hop to electronica, minimal techno and microhouse, Alexandru Sornea aka Xandru is a well-known figure in the electronic music scene, who loves to experiment with various styles and genres, consistently delivering unforgettable moments to the people when he's behind the decks as well as to his listeners when he drops a new release. Among the labels he collaborated with we find Windmühle, Sofiamuzik, MuM Recordings, UVAR, Secret Society, Susur, LDN, Eastenderz, Bad Barbie Records and Welt Recordings, among others.
Xandru pe soundcloud | facebook | instagram | bandcamp
Join the programme and experience music and visual art shaping public spaces.
Follow the Un-hidden Romania programme:
Map: http://bit.ly/Un-hiddenRomania
Facebook: https://www.facebook.com/unhidden
Instagram: https://www.instagram.com/unhiddenromania
YouTube: https://bit.ly/UHR-playlist
Pinterest: https://bit.ly/UHR-pinterest
feeder.ro: http://feeder.ro/un-hidden/
Programme produced by Save or Cancel.
Distributed by feeder.ro
Partners: Muzeul Național de Artă Contemporană (București), Școala Gimnazială Specială Nr. 9, Romexpo, Biblioteca Metropolitană București, Facultatea de Sociologie și Asistență Socială (București), Lente (București), Colegiul Național de Arte Regina Maria (Constanța), Asociația Artipic (Iași)
Media partners: Igloo, Zeppelin, The Institute, IQads, Revista Atelierul, Zile și Nopți, La pas prin Brașov, Litera 9, Romania Pozitivă, Book Hub, Teen Press, Revista Golan, Propagarta
Co-financed by AFCN
The programme does not necessarily represent the position of The Administration of the National Cultural Fund. AFCN is not responsible for the content of the application or the way the program results can be used. These are entirely the responsibility of the beneficiary of the funding.
About Save or Cancel
Since 2009, Save or Cancel has been a medium for the communication and propagation of arts and culture, promoting and facilitating their role in contemporary society.
Save or Cancel's self-initiated multidisciplinary programs aim to identify sustainable and adaptable opportunities to (re)enhance the existing through architectural, cultural and publishing projects.